Sampatti
"The Bread Lady"
Sampatti is a magician
with baked goods!
Review by Jewels N.
JOSHUA TREE, CA
Sampatti is a magician with baked goods!
You can taste the magic and love in every bite.
She uses only the finest quality ingredients
and can custom bake for a Special Occasion
or for special dietary needs.
Her loaves of bread are amazing,
her desserts divine and
be sure to ask about her savory dishes.
She knows recipes from all
over the world!
She very kindly took some apples a friend of
mine had canned and turned them into the most
delicious pie for just a very small fee.
It was such a kind thing to do and
the pie was a million times better than any
one I could have made! You can call and
order, place your order 48 hours in advance.
She needs 48 hours advance notice.
Baking Time! Call (760) 610-9040
Hours: 9 am — 6 pm.
Find her at
The Beatnik Lounge
on market days.


Multi-Grains, Challah, Gluten Free,
& Rosemary & Olive Bread, Pumpernickel bread,
Sampatti "The Bread Lady"
loaves of bread made with love …
Call 760-610-9040 to place an order.
Artisan Bread, Pies & Cakes & More!
Multi-Grains, Challah, Gluten Free,
& Rosemary & Olive Bread, Pumpernickel bread,
Sesame Seed Cookies, Coconut Macaroons,
Pumpkin Bread & Pies, Tarte Tatin, Diplomatico,
Fougasse, Empanadas and even more!
Special orders welcome.
Call 760-610-9040
















Maggie Glezer, the uniquely qualified, totally obsessed certified bread baker who teaches and writes about bread for both laypeople and professionals, set off across the country in pursuit of the best breads and best bakers in America. And she returned with the goods—impeccable recipes that reproduce the excellence and craft of the best breads being made today, scaled down and written for a home kitchen.
But in addition to the recipes, she offers sumptuous color photography and portraits of the bakers, in words and pictures, that tell the story of America's artisan bread movement, from the wheat breeders in Kansas to a gristmill in Rhode Island, and specialty bakers from Berkeley, California, to Long Island City, New York.
This is a book to bake from, to learn from, to read for the sheer pleasure of realizing the devotion and mastery that go into the making of our best daily bread, whether it be a dark rye, a Neapolitan pizza, a baguette, or a bialy.
Whether your interest is epicurean, avocational, or vocational, you will be guided by step-by-step instructions detailing the best professional methods. Each recipe is categorized by skill level from beginner to advanced, and there are also helpful mail-order sources for ingredients and equipment.
To savor the crust, crumb, and aroma of these bread fresh out of your home oven is to be touched by the soul of the specialty baker and his or her passion for excellence.
If these truly great bread don't lay waste to the old adage that man can't live by bread alone, then nothing will.

The Book has excellent reviews.
Artisan Baking Across America: book baking bread
Sampatti's Deals
Claire Plowman Art, Yucca Valley, CA

Multi-Grains, Challah, Gluten Free,
& Rosemary & Olive Bread, Pumpernickel bread,
Sampatti "The Bread Lady"
loaves of bread made with love …
Call 760-610-9040 to place an order.
Artisan Bread, Pies & Cakes & More!
Multi-Grains, Challah, Gluten Free,
& Rosemary & Olive Bread, Pumpernickel bread,
Sesame Seed Cookies, Coconut Macaroons,
Pumpkin Bread & Pies, Tarte Tatin, Diplomatico,
Fougasse, Empanadas and even more!
Special orders welcome.
Call 760-610-9040
cake, pizza, bread, cookies & more.
BY,
Sampatti The Bread Lady
The thing that seems to please my customers is the fact that I truly love what I do! Nothing pleases me more than to see the amazed expression on people's face when they taste my food. It is not an exaggeration to say that the feedback that I get is consistently excellent. Also, I try to vary and expand the items that I bake so that it becomes an adventure to shop with me. It is more fun for me to explore foods from all over the world, and to use the best ingredients as well.I am a happy baker!
History
Established in 2014.
I began baking for friends who then suggested that I should consider selling my breads. After I got my license I arranged to have occasional bake sales, and eventually joined a farmers market. Now it is more comfortable for me to provide my clients with baked goods according to their specific needs. They contact me with their order and I bake accordingly. In other words, custom baking.
Food
gift ideas
homemade
local bakery,
Cakes! ,
Bread,
loaves of bread,
& Desserts.




a happy review …
"What a glorious, delicious treasure of treats! With every bite, I am reminded of the dynamic, inspiring Sampatti and the love she pours into each of the delectables she creates. Try any of her Breads, and you're sure to want more!"
review by Eric Q.
Yucca Valley, CA

Foods as gift items …. click here for
Sampatti breads and desserts.


loaves of bread made with love …
Call 760-610-9040 to place an order.
Sampatti "The Bread Lady"
760-610-9040
Custom Bake:
Artisan Bread, Multi-Grains, Challah, Gluten Free, & More.
Gluten Free 9 Grain Artisan Bread, Sprouted Multi-grain Bread,
Rosemary & Olive Bread, Pumpernickel bread, Sesame Seed Cookies,
Coconut Macaroons, Pumpkin Bread & Pies, Tarte Tatin, Diplomatico,
Fougasse, Empanadas and even more! Special orders welcome.


by Sampatti
If I have a goal with my baking it is bringing healthy,
nutritious bread from all parts of the world
to my friends and clients. When people tell me, "I
don't eat bread" then I know that the person's experience
of bread is extremely limited. Bread has fed the poor &
the hungry for thousands of years.
It has kept many generations alive when no other food was available.
In Africa and the Middle East bread is blessed every time
it is eaten.





The Bread Lover's Bread Machine Cookbook:
A Master Baker's 300 Favorite Recipes for Perfect-Every-Time
Bread-From Every Kind of Machine Paperback, by Beth Hensperger (Author)
4.4 out of 5 stars 1,384 customer reviews.
The Bread Lover's Bread Machine Cookbook:
Books about bread baking & articles
Scroll down for the following articles
The history of
the Hummingbird cake
By JONNY GARRETT
THE BEGINNING OF THE END
OF HUMMINGBIRD CAKE
Matthew Gavin Frank
HUMMINGBIRD CAKE:
FROM JAMAICA TO THE
AMERICAN SOUTH AND BEYOND
by: MaryJane Robbins
The History of Bread
By sarahlohman
Bread making for beginners
by DOWN TO EARTH SIMPLE LIVING FORUMS



Sampatti "The Bread Lady"
760-610-9040
Custom Bake:
Artisan Breads, Mulit-Grains, Challah, Gluten Free, & More.
Gluten Free 9 Grain Artisan Bread, Sprouted Mulit-grain Bread,
Rosemary & Olive Bread, Pumpernickel bread, Sesame Seed Cookies,
Coconut Macaroons, Pumpkin Bread & Pies, Tarte Tatin, Diplomatico,
Fougasse, Empanadas and even more! Special orders welcome.



Bread Lady BakeSale at MAKERS Market,
at the
Beatnik Lounge, March 25 & 26 10 AM Close 4 PM
61597 29 Palms Hwy
Joshua Tree, California


[caption id="attachment_2170" align="alignleft" width="300"]
An Italian recipe which I found in a Julia Child cookbook.
I have several versions that I have created. This one has several
layers, starting with soft scrambled eggs with garlic and kale on the
bottom (which is lined with my non-gmo pastry.) Then the next layer is
basmati brown rice and chickpeas, seasoned with Middle Eastern spices,
that is followed with fresh Roma tomatoes which have been roasted in
the oven,and then grated Pecorino Romano cheese, followed with a
covering of my pastry on top. This has to be one of the most
satisfying dishes one can eat!



Yelp page has more
images of breads & Desserts



Express Barber & Beauty
Manicure & Pedicure
$60.00 open everyday
760-218-6945
5984 Adobe Rd.
29 Palms
Internet Marketing
Services
Call Paul Backovich
442-256-1457
Cybersecurity
is importance
for all websites.
Website Security is Critical Call 442-256-1457
Discover How to Protect Your Business and
Your Customers From Cyber Criminals
… While Simultaneously Giving Your
Site a Boost in Search Rankings!
SSL Certificate
sold here .. $57.00 per year
Secure your Site with an
SSL Certificate.
View the top left
Corner of the screen,
you want the secure
icon. The lock & the
word "Secure" for all
Websites.

Sampatti the Bread Lady
A true review from a happy client from a bake sale at
the Joshua Tree Farmers market.
"Sampatti is an incredible baker and pastry chef. Her Tarte Tatin takes me right back to Paris, her Bourrecha's and Fougasse take me back to Provence. Sampatti can make special orders too, I recently had a kitchen mis-hap and I needed a dessert for a party, Sampatti whipped me up the most delicious chocolate mousse in an hour and saved my bacon! She is a wealth of information on European and Middle- Eastern cookery. She is a gem! Very easy to work with, she has a comprehensive understanding of vegan and vegetarian cooking."
Sampatti bakes her breads with much love and care selecting the best ingredients for health and taste.


At the Rainbow Stew bake sale I tried a slice of her pumpkin pie and decided to purchase the whole pie, which was made with all organic ingredients and the taste and my joy was beyond Excellent!
Sampatti The Bread Lady
Breads, Desserts, & Specials.
Check back for the next local bake sale.


Contact information Bread Lady
May All Your Dreams Come True!



Perfect Pumpkin Pie … I ate it all!
best to ya all Paul


Artisan 9 whole grain bread.

Check out the Rainbow Stew WebeSite
… lots of unique cool items and charms.


Paul saids,
Spice Cake, Excellent! The most delicious cake!




View the Yelp page for more photos & reviews
Click



Food Baked with love
Homemade local bakery
custom baker
Pies veggie & fruit
Food gift ideas
homemade local bakery,
quiche, cake,
pizza, bread,
cookies & more
offered from
Sampatti the "Bread Lady"
Serving Joshua Tree, Yucca Valley, 29 Palms,
The Hi-Desert, Palm Springs, Morongo Basin California,
and the whole darn Planet.
The Bread Lady 760-610-9040
a special Jewish braided bread eaten on
Sabbath and Jewish holidays.






Yelp page photos & reviews
Click
View of Breads … click
Cakes

Divine Chocolate Raspberry Sour Cream Cake
with rasberries,
to die for!


If you like good healthy food & bakery items the best is created by
Sampatti, The Bread Lady, custom baker, you can
call her 760-610-9040
& she will
bake to order.
I just ate some quiche  and pie I purchased from her and
all I can say is WoW!
it is pure cooking art
& the best the HI Desert has to offer.
Specials


The Bread Lover's Bread Machine Cookbook:
A Master Baker's 300 Favorite Recipes
for Perfect-Every-Time Bread-From Every Kind of Machine
View of Excellent Breads
on Old Bake Sale Flyer
Click here for a large view.
Cakes & Cookies
Call & order
Birthday cake, wedding cakes, cake, baby shower cakes,
bakery, near me, cake bakery, birthday cupcakes, local bakeries,
pastry, custom cakes, french cooking, french bread, birthday
cake delivery ,cookies, butterfly birthday cake, bakery names,
50th birthday cakes, grooms cake Happy Birthday cake.
Food gift ideas hom emade local bakery, quiche, cake,
pizza, bread, cookies & more offered from the
Bread Lady of Joshua Tree.
Call 760-610-9040 and enjoy pure cooking art
The Secret to Hummingbird Cake
Comming
The history of
the Hummingbird cake
By JONNY GARRETT
click here for the full article
Tonight on Jamie's Comfort Food, Jamie is baking something that will cause endless excitement among Americans, and complete bafflement for everyone else – the Hummingbird cake.
The Hummingbird cake is a very unusual one. For a start, it's made with oil rather than butter, and contains more fruit than flour. The mix doesn't need beating, goes dynamite with a cream cheese icing and often involves spices and nuts. Contrary to the name, there are no birds in this particular recipe.
Despite its cryptic name, the Hummingbird cake's origins are clearer than most. Usually the origins of foods are shrouded in the mists of time, handed down from generation to generation before popping up somewhere completely different.
The giveaway to the Hummingbird cake's birthplace, however, is in the key ingredients – bananas and pineapple. Hopefully you're already thinking of the Caribbean, and it's thought to have been invented in Jamaica, probably in the late '60s.
Originally, it was called the "Doctor bird cake", a nickname for a Jamaican variety of hummingbird called the Red-billed Streamertail. The name came from the way the bird's long beak probes flowers, like a doctor inspecting a patient. So what does that have to do with a pineapple and banana cake? Some say the cake was named after the bird because it was sweet enough to attract hummingbirds (who eat only nectar), while others say the yellow streaks of banana was reminiscent of the bird's plumage. Either way, the Doctor bird was about to take flight.

click here for the full article



Scroll down for Bread making for beginners
by DOWN TO EARTH SIMPLE LIVING FORUMS



For Business & Community, Get Listed.

Get Listed click



Larry & Milt's
Western Cafe


THE BEGINNING OF THE END OF HUMMINGBIRD CAKE
Matthew Gavin Frank
Other names for Hummingbird Cake: Granny's Best Cake, Jamaican Cake (the hummingbird, aka Doctor Bird, is the Jamaican national bird), Cake That Don't Last, Nothing Left Cake, and the contradictory Never Ending Cake.
*
In its nicknames, Hummingbird Cake is both Nothing and Forever.
*
Other theories as to the reasoning behind the cake's name: It's sweet; hummingbirds like sweet. When you eat it, you hum with happiness. Like the hummingbird, we flock to this cake, eat it intensely and quickly, and disperse when sated.

Click here for the full story by Matthew Gavin Frank … he has an interested view of the
hummingbird cake
Express Barber & Beauty
29 Palms Nail Salon
5984 Adobe Rd
Twentynine Palms, CA 92277
Phone number (760) 219-1995
29 Palms
Express Barber & Beauty
Yelp Page



HUMMINGBIRD CAKE: FROM JAMAICA TO THE AMERICAN SOUTH AND BEYOND
by: MaryJane Robbins
full story at this link, http://blog.kingarthurflour.com/2015/05/21/hummingbird-cake/
It's not often that a cake recipe stems from a tourist promotion, but that seems to be just the case with Hummingbird Cake. A cake rich in banana and pineapple with hearty pecans, all covered in sumptuous cream cheese icing, Hummingbird Cake isn't your everyday bakery cake but something so much more.
So many people have commented on the name Hummingbird Cake and wondered "who named it that, anyway?" that I went in search of an explanation. I was thrilled to find a great little blog over at toriavey.com. Tori researches and shares stories of unique recipes and their origins, like this gem of a cake.
The national bird of Jamaica is the doctor bird, a colorful member of the hummingbird family. It's so named because the probing of the bird at flower blossoms reminded people of the probing and prodding we all get at the doctor's office.
When Air Jamaica was formed in 1968, their tourism information included recipes from the island converted for use in the American kitchen, including their beloved Doctor Bird Cake. These cakes are so sweet and fruity it's claimed they even draw hummingbirds to the table.
Doctor Bird Cake became Doctor Byrd Cake in the Southern U.S., where Byrd was a popular family name, and from there became the more generic Hummingbird Cake we know today.
I love the fact that this cake is also known as Granny Cake and Don't Last Cake. Believe me, that's exactly what we experienced last time we served this cake in our test kitchen: it went from full three-layer cake to empty platter in 15 minutes flat. A record Granny could be proud of!
There are a few secrets to making this outstanding cake the best it can be, and we're happy to share those with you. Click here for the full story
The History of Bread
By sarahlohman
Bread, in all its various forms, is the most widely consumed food in the world. Not only is it an important source of carbohydrates, it's also portable and compact, which helps to explain why it has been an integral part of our diet for thousands of years. In fact, recent scholarship suggests humans started baking bread at least 30,000 years ago.
Prehistoric man had already been making gruel from water and grains, so it was a small jump to starting cooking this mixture into a solid by frying it on stones. A 2010 study by the National Academy of Sciences discovered traces of starch (likely from the roots of cattails and ferns) in prehistoric mortar and pestle-like rocks. The roots would have been peeled and dried before they were ground into flour and mixed with water. Finally, the paste would be cooked on heated rocks.
But how did humanity get from this prehistoric flatbread to a fluffy, grocery store loaf? There were three primary innovations that created "modern" bread.
Click here for
a history obout bread
More Bread History
Wheat has been cultivated by man since before recorded history. It is conjectured by anthropologists that hungry hunter/gatherers first stockpiled the grain as a storable food source. When it got wet, it sprouted, and people found that if the grain was planted it yielded yet more seeds.
History of Bread
Historic Bread Oven
Grown in Mesopotamia and Egypt, wheat was likely first merely chewed. Later it was discovered that it could be pulverized and made into a paste. Set over a fire, the paste hardened into a flat bread that kept for several days. It did not take much of a leap to discover leavened (raised) bread when yeast was accidentally introduced to the paste.
Instead of waiting for fortuitous circumstances to leaven their bread, people found that they could save a piece of dough from a batch of bread to put into the next day's dough. This was the origin of sour-dough, a process still used today.
In Egypt, around 1000 BC, inquiring minds isolated yeast and were able to introduce the culture directly to their breads. Also a new strain of wheat was developed that allowed for refined white bread. This was the first truly modern bread. Up to thirty varieties of bread may have been popular in ancient Egypt.
It was also during this time that bread beer was developed. The bread was soaked in water and sweetened and the foamy liquor run off. Beer, was as popular in ancient Egypt as it is in America today.
The Greeks picked up the technology for making bread from the Egyptians; from Greece, the practice spread over the rest of Europe. Bread and wheat were especially important in Rome where it was thought more vital than meat. Soldiers felt slighted if they were not given their allotment. The Roman welfare state was based on the distribution of grain to people living in Rome. Later the government even baked the bread.
More about food soon!
Bread making for beginners
by DOWN TO EARTH SIMPLE LIVING FORUMS
Click here for the pages with images: DOWN TO EARTH SIMPLE LIVING FORUMS
If you haven't already discovered the power of your own home you are in for a delightful and beautiful shock. Come closer and let me whisper in your ear, because if everyone knows this, it will cause a revolution. The work you do in your own home, by creating a warm and secure place for yourself and your family to live in, will enrich you and make you a different person. It saved me from a life of ridiculous spending and mindless acquisition and slowed me down enough to allow me to see the beauty here. When I took the time to change my attitude towards my home, it not only gave me the energy to do housework and the strength to make the physical changes so our home better suited how we live, it changed me in the process. It is a beautiful change that I am grateful for every day.
TOTAL PAGEVIEWS
Sparkline 21,830,034
Bread making for beginners
I hope this tutorial helps the readers who are starting out on bread making or those who have tried but failed. All the ingredients are commonly found in Australian supermarkets, bulk food stores and health food stores.
Baking bread makes sense economically, even if you make your bread in a bread maker, it will be much cheaper than buying premade bread. It will also be healthier as your homemade bread will contain only those ingredients you include, not flavour enhancers, preservatives or colourings.
You will see I've added gluten flour to this recipe. It will help those of you who have not yet got the kneading under control to still get an excellent loaf. When you're more proficient, you can leave it out.
I am happy to help anyone who is having trouble baking reasonable bread. Most problems are easy to fix. Just leave a note in the comments section and I'll get back to you as soon as I can.
THE RECIPE
1½ teaspoons dried yeast
1 tablespoon sugar
65 mls warm water
3¾ cups baker's flour – also called strong flour or high protein flour
3 teaspoons gluten flour
1 tablespoon butter/margarine (softened)
1½ teaspoons salt
1 tablespoon milk powder
250 mls warm water + more if necessary
Just a word about flour. Bread mix, which is commonly used in bread machines, is flour with bread improver and flavour enhancers added. We are NOT using bread mix. By adding the ingredients we add, we're adding natural flavour to the bread as well as giving it a lift, that as an inexperienced baker, you won't get without the gluten flour. When you start experimenting with other recipes you can leave out some of these ingredients and try others. Another thing you need to know about flour is that it's different all over the country. When baking with the various flours, they take different amounts of water. A flour in Melbourne will be slightly different to a flour in Brisbane because of the amount of humidity in the air. And even if you use the same bag of flour at different times of the year, you'll probably use slightly more or less water, according to the weather conditions. This is not a problem, it just means you have to know what your dough should look and feel like before going to the next step. Bread making is very tactile, even when making the dough in a bread machine, I feel it to make sure I have enough moisture in the dough. This recipe generally uses 315mls of water, but when I made this loaf yesterday I used about 40mls more. Sometimes the difference will be one spoon full, sometimes it will be almost a cup.
STEP 1
Activate the yeast. (Proofing)
You don't want to go to the trouble of making the bread and find at the end it hasn't worked. One of the ways to be confident the bread will turn out well is to make sure the yeast you're about to use is alive. Yeast needs water and sugar to activate. If it's alive, when you add the water and sugar, the yeast will start fermenting and becoming frothy. This is what you want to see. Take 1½ teaspoons dried yeast, 1 tablespoon sugar and 65 mls warm water and mix together in a cup. Leave it aside for a few minutes while you prepare your other ingredients. When you come back to it 5 – 10 minutes later, it should look like this.
STEP 2
Mixing the dough
Then add your dry ingredients to a large mixing bowl. Add the flour first, then make a little depression in the flour to contain your other dry ingredients. When all the dry ingredients are in, add your proofed yeast and the rest of the warm water. Mix all the ingredients together with a spoon until it gets to the point where your hands will mix it better, then start bringing the mixture together with your hands. This is the first point when you check the moisture content. If you need more water, your dough will look like this after you've added all the water stated in the recipe.You can see in the photo that the dough looks dry. It hasn't come together properly and there is still flour to be incorporated into the mix. Take notice what your dough feels like.
You're aiming for a ball of dough that's combined all the ingredients, with a slightly moist feel. You don't want it wet and not dry either. If your dough looks like the above photo, add more water by doing this: get a half a cup of warm water and a dessertspoon. Add the water to the dough one spoon full at a time. You have to be careful not to add to much so do it bit by bit. When your dough looks like the following photo, you're ready to go to the next step.
STEP 3
Kneading the dough
If you've had problems with handmade bread before, you're probably not kneading the dough long enough. This is a very important step if you want light bread with a good crumb. If you're good at kneading, this step will take you at least 8 minutes. If you're light handed, you'll take at least 10 minutes on this step.You need a firm and stable surface on which to knead your dough. It's best done on a clean bench top. Wipe the surface of your bench top with a clean cloth and warm soapy water. Don't use antiseptic wipes, you could kill the yeast. When you're satisfied the bench is clean, wipe it with a clean tea towel. This surface is ideal for kneading. If your bench top is not suitable, use a large bread board with a slightly wet tea towel folded in half under the board. The moistened tea towel will stop the board moving while you're kneading. Sprinkle a small amount of the same flour you used in the recipe onto your bench top and place the dough on it. Before you start kneading, poke your finger into the dough and see how the indent stays in there. This is a good way to test your dough as you go through the kneading process.
Start kneading the dough. You can use both hands to do this. In the photos, I'm using one hand because I'm taking the photo with the other one. What you're trying to do is develop the gluten by working the dough and getting the gluten strands to develop. You do this using the heal of your hand. Push the top of the dough away from you with the heal of your hand while holding the dough steady with your other hand.
The dough stays right in front of you all the time, but you push a portion of it away with every action. After you've pushed out, fold that portion of the dough back on itself like the top of an envelope. Turn the dough a quarter turn and push it out again with the heal of your hand. Fold it back on itself. Another quarter turn. When you've kneaded for one minute, your dough will look like this:
We can see here how the dough had been folded back on itself and that it's starting to look drier and smoother. Keep kneading for another few minutes and the dough is smoother again. If you poke your finger into it now, the dough will spring back out, not stay indented. Keep kneading until your dough is smooth and elastic, like this.
You can see that the dough is smooth and elastic and if you poke your finger in it will spring out nicely. If you've been kneading for AT LEAST 8 minutes and your dough is smooth and looking like the photo above, then you're ready to go to move on.
Don't rush things though just for the sake of a few minutes because the work you do here makes or breaks your bread. Fold all the bread into itself so the other side forms a nice smooth ball like this:
STEP 4
First rise
Place the ball of dough, smooth side up, in a clean bowl that's been very lightly greased with olive oil. Cover the dough with a clean moist tea towel or a lightly greased piece of plastic wrap. The bread must be covered well so it doesn't start to harden while it's rising. If you've got a cold kitchen the greased plastic wrap might be the better option. You want the dough to rise in a warm draft-free area. If the dough stays cold, it will take hours to rise. So place in in an oven that you've heated to about 150C for a few minutes and turned off. Or you could put it outside in the sun (I do this). Make sure it's covered properly though, you don't want flies or ants in your mix. Or place a heated wheat bag near the bowl. If you have a pot of soup on the stove that is still warm, place the bowl near the stove. If you have a hot water system that is warm during the day, that might be a good place for you. You're looking for a a temperature of around 20 – 24 C. If the area is too hot or too cold it will effect the taste and texture of the finished loaf. Leave the covered dough in the warm spot untouched for about 30 minutes and check. It needs to double in size, like this:
When you dough looks like this, you're ready to go to the next step.
STEP 5
Punching down and forming the dough
Punch the dough to deflate it. It will look like this:
Scoop the dough up out of the bowl, sprinkle flour on your bench top again and place the dough on the flour.Turn your oven on to its highest setting. Start kneading the dough again. Use the same technique as before with the heal of your hand and knead for two minutes:
After two minutes of kneading, flatten the dough and roll it into a cigar shape.When it looks like this, you're ready to add some seeds:
On my loaf I used a mixture of sesame and poppy seeds with oats. This stage is the opportunity to add more nutrition to the loaf with oats, wheatgerm, sesame or poppy seeds, soaked linseed or any other topping you want to use.
Pick the loaf up with the smooth side on top and with your other hand, moisten the loaf all over with water. Roll the loaf in the seeds/oats so that's it's completely covered. The water will stick the coating to the loaf. If you don't want seeds on the loaf but would like a crusty loaf, moisten the dough with the water but don't add the seeds. If you want a softer loaf, don't add the water at this stage but put the loaf straight into a lightly greased loaf tin and sprinkle with a small amount of flour. If you like, you can make a slashes in the top of the loaf.
STEP 6
Second rise
Let the loaf sit in the loaf tin for the second rise until it's lifted a couple of inches but not bulging over the sides.
STEP 7
Baking
You need a hot oven to get a good lift, so when the oven is hot, place the loaf in to cook. After 10 minutes, turn the oven down to 200C and cook for another 15 – 20 minutes, or until you can smell baked bread and the bread is golden brown. Put the bread on a cake rack and get the butter ready because you are about to enjoy your bread.
Click here for the pages with images: DOWN TO EARTH SIMPLE LIVING FORUMS
Labels: Bread, Home Cooking, Homemade
Reactions:funny, int
76 comments:
SusanJune 20, 2007 12:29 pm
Rhonda, thank you so very much for this article! I've made bread in the past and always wondered if I was doing it right as, for example, I didn't really know what exactly the dough should look like after it's kneaded. Now I do! Woo hoo. Thanks again.
Reply
rhonda jeanJune 20, 2007 2:22 pm
I'm happy to help, susan.
Reply
Laurie AnneJune 20, 2007 4:44 pm
What a great post. I LOVE to bake bread. The feel of the dough as you kneed, the smell of it baking in the oven and let's not forget the taste. Ahhhhh, I am definately inspired to bake a little bread tomorrow :0)
Reply
farm momJune 20, 2007 9:53 pm
Thanks for the tutorial with WONDERFUL pics. I will definately be coming back to this post again and again as I'm learning how to make bread by hand. I haven't done much lately, because it's been far too hot to want to bake. Thanks again!
Reply
LouiseJune 21, 2007 1:24 pm
My housemates and I have been wondering about the best way to go about making bread without a machine for the last few weeks. This is a very timely post. The instructions look great, I will be giving it a go this weekend!
Reply
rhonda jeanJune 21, 2007 1:59 pm
I hope your loaves turn out well.
Please come back and tell me how it turns out. Happy baking!
Reply
P~June 23, 2007 9:41 am
That loaf looks so good. I love when they have a bunch of seeds sprinkled on top. We'll have to try that recipe for sure.
P~
Reply
KirstyJune 24, 2007 9:09 am
Hi Rhonda, I thought I better tell you that I use your bread recipe all the time now! I took a loaf to work today (I cooked it on a pizza stone) Everyone loved it and asked for the recipe! sorry I havent checked out your blog before now but I'll be keeping an eye on it, Oh and I still love those shots of your hands kneading the dough! Thanks
Reply
bradJanuary 14, 2008 11:13 am
I saw your mention of your bread recipe as part of your ebook this week, so went back looking for it and found this post. I ended up following it today. Thank you.
Reply
DJMarch 23, 2008 6:42 am
I've recently started making my own bread as a way of saving money and ensuring that I know exactly what's going into my family's mouths, but have had problems with the rise and lift of my loaves. This tutorial is superb, and I will be printing it out and pinning it to the cupboard over my countertop to use a point-of-reference from now on! Thankyou!!
Reply
AnonymousApril 15, 2008 12:34 pm
I can't find Gluten Flour anywhere, it's always gluten free flour. I think i'm good at kneading. I can knead heavy handed for the 8 minutes no problems, so can i leave out the gluten flour? If so should i add more of the other flour?
Reply
MelissaMay 27, 2008 7:39 am
Rhonda, I'm a newcomer to your blog, having linked here from Wits End (The Crone) and Diary of a wannabe hippe (Shel). It's fabulous, and I spent ages yesterday going back and reading through.
Anyway..I baked my first loaf of bread by hand on Sunday. I went online and found every hand made loaf instruction I could. I ended up reading 40ish (by the way, between them all, so contradictory, I got so confused). I have just deleted every one of them, and will just stay with this one.
It's fabulous, as is everything I"ve read in this blog.
Thank you so much. You're going to be a great help to my family.
Reply
AnonymousJune 16, 2008 1:35 am
I love your blog and your tutorials!! I do have a couple of questions I hope you can answer for me. Your bread recipe is the only bread we now eat, yay, but we eat a lot and I'm having to make it 4 or 5 times a week. Is there any way I can double the recipe or make two annd freeze one loaf?
Also how would I make it WW bread and Rye bread etc do I just change the flour?
Thanks in advance.
Reply
AngieJune 18, 2008 1:34 am
Rhonda,
Thank you for inspiring me again. Look I made bread for the first time!!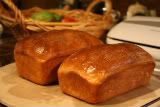 Reply
AnonymousJune 19, 2008 6:22 pm
Need help with my bread baking… is there any way I could have a loaf of bread that stays "fresh" after the 1st day WITHOUT using bread improver? Many thanks in advance.
Reply
Rhonda JeanJune 20, 2008 4:11 pm
Hello Anon, you you can double the recipe and freeze. To change the type of bread, just change the bread flour. When you use the heavier flours, you will probably have to increase the amount of water as well.
Great work, Agie!! well done, love. :- )
Anon. I bake bread the day I want to use it. Could you make the dough and freeze it?
Reply
Green Plan(t)July 05, 2008 1:03 pm
I just tried this for the first time today and it turned out just right! I'm trying to cut back dramatically on our expense with store-bought bread and I think this is definitely going to work.
8 to 10 minutes of kneading sure took longer than I thought it would, but I was able to tell when it was done without looking at the time. Color me a proud baker. 😉
My whole family loved the bread and I can't wait to make it again.
Thanks again!
Reply
DibsOctober 28, 2008 10:02 am
Hello Rhonda – Found your blog while looking for tips on bread making. This post is awsome, and will look forward to read all your posts!
I baked for the first time yesterday …here are the results
http://chitra-ammas-recipes.blogspot.com/
Reply
CarNovember 07, 2008 12:19 pm
Just wanted to say a huge thanks for the bread tutorial – I cheated a little and used the breadmixer to make the dough and followed your steps from Rise 2 and am pleased to say it worked well!!! I intend to blog pics later today 🙂
Thanks again
Reply
KathyNovember 22, 2008 3:10 am
I just wanted to let you know that I had been looking for a good deal on a bread machine since I read through your blog a number of weeks ago and printing off the bread recipes. I found one on Craigslist here in TN and the man delivered it to my office door! I will be trying out some of your recipes and will let you know how I do. Thank you so much for your wonderful blog! I enjoy reading it every day.
Reply
AnonymousFebruary 23, 2009 1:30 am
What am I doing wrong when I am kneading the bread dough and it won't stick together and just folds over instead of meshing together? Too much flour??
Reply
AnonymousApril 02, 2009 9:36 am
Thank you for the tutorial! I just made bread for the first time ever and it's pretty yummy. Very dense and moist. But the top is pretty toasty…just about burnt. I noticed after the first ten minutes on high heat it was very brown. When you say "Turn your oven on to its highest setting," do you really mean that? Mine's is 550F or 288C. Is that too hot? Or is there something else I did wrong? Thanks again for your help.
–Sarah
Reply
Rhonda JeanApril 02, 2009 9:57 am
Anon, you need more water. Sarah, yes, that's too hot. Set it around the 500 mark and see how that goes, then turn down to 475 for the main cooking.
Reply
AnonymousApril 19, 2009 2:39 am
Wooohooo! Rhonda you rock! I am amazed that I could make bread and have it turn out like this. 🙂 🙂 Thank you thank you!
I followed your instructions and started it out at 500*F, and turned it down to 390* after about 7 or 8 minutes because I know my oven is sometimes slow to adjust the temp. I also brushed the top with melted butter. I must not have kneaded it long enough last time because then it was really crumbly and now it is very soft and fluffy and just the crust is crunchy. The other thing I changed was putting it out in my car to proof instead of leaving it on the counter, since it is a cool day here (only about 24 C).
This is great. I'm going to get some other types of flours and start experimenting. I never want to buy bread again! I don't really have any "real-life" mentor ladies to show me about all these skills that we are (sadly) losing as a society, so I am super-excited to have found your site. Thank you again!
–Sarah
Reply
AkosApril 27, 2009 5:51 am
Hi Rhonda,
Just wondering if you could give tips on baking gluten free bread, as my wife can't eat wheat. Cheers, Akos
Reply
Rhonda JeanApril 27, 2009 6:31 am
Akos, I can't help you, sorry. I've never made gluten-free bread.
Reply
jessicaApril 29, 2009 8:09 am
great tutorial! I am going to give it a try. Hope my bread turns out like yours!
Reply
BadbMay 06, 2009 8:39 am
hi rhonda, thanks for the tutorial, it has helped my bread making hugely. i do have one problem though. my bread just won't rise properly. it matches your photos up until the punching down step – i don't get bubbles of air and i don't get that lovely whoosh i remember hearing when i've seen bakers do it. the second time it hardly rises at all.
i leave it to rise in the sun room – we live on a mountain in tassie, so it only gets to about 20 degrees in there.
any suggestions?
Reply
lovelovinghorsesMay 08, 2009 10:21 pm
Hi Rhonda,
First I would just like to thank-you for your wonderful blog, I enjoy it so much and it is really inspiring and motivating too.
I would like a recipe for a wholewheat/wholemeal loaf, do you have o good one?
Thanks again.
Kindest regards to you and Hanno.
Reply
NadiaMay 13, 2009 8:23 am
Thank you so much for this post! I've tried, and failed at making bread from scratch for about 10 years now. A perfect loaf the first time!! THANKS!!!!
Reply
AnonymousMay 18, 2009 5:39 pm
Hi Rhonda, I was wondering if you have seen this, Mary Hunt says it revolutionises bread making.
http://www.moneyrulesdebtstinks.com/?p=460
and this link to a basic recipe
Master Recipe for White-Flour dough: Great coverage in "The Week" Magazine, but there was one little problem…

Many thanks for your blog
Princess
Reply
RumelaMay 26, 2009 12:19 am
My father is a huge fan of gluten free bread and I always try to bake one for him whenever we see my parents. He has yet to be fully blown away by any of the recipes i've tried. Simplicity is key, and yours looks perfect! Can't wait to try it.thank you for shearing your post.
Reply
AnonymousJune 21, 2009 12:12 pm
Artisan bread in 5 looks like an interesting book. I think the main idea is that they found that you can refrigerate your dough after the 2nd rise for up to 2 weeks. You just cut off what you need immediately when you need it out of the fridge. That might be useful for anyone knowing how to bake in batches! I'd love to hear if anyone has tried this!
Your blog is great Rhonda-the photo guide for how your dough should look at each step is exactly what I needed.
Thanks
🙂 Sarah EKD
Reply
KristyJuly 17, 2009 8:24 am
Hi Rhonda,
I plan on making this bread next week, the boys and I are on a baking mission this week with a full schedule! I make a loaf every few days that we all enjoy for breakfast filled with lots of seeds and honey. It's delicious and keeps me full all morning. I make it the night before, and on the second rise, pop it in the fridge where it proves slowly overnight, ready to be baked fresh in the morning! This means that when we all walk out the door at 7.30am, we've had beautiful fresh bread (the next 2 mornings it's grilled as toast). I'll try your recipe and see if I can do the same with it. Looking forward to it.
Thanks for an interesting blog.
Kristy
Reply
Sister Brenda/haflingerJuly 28, 2009 9:20 am
I've been wanting to know how to make bread from scratch..But I don't know my mls could you help me on the water part please..
Thanks.. Sister Brenda
Reply
ZosimonSeptember 01, 2009 3:58 pm
There was only one time when I baked a loaf of bread. It turned out too dry. Perhaps, I put too much flour, or kept it in the oven for too long.
Your recipe seems to be the most thorough I have read so far on the internet. Unfortunately, bread is not my friend for now hehe . I will certainly make a loaf with this recipe for my folks. Thank you.
Reply
StephanieSeptember 24, 2009 7:35 pm
Hi Rhonda
I found your bread making tutorial on a NZ website and have traced it back to you. I want to say thanks so much for brilliant instructions, and great photos – I felt like you had written the tutorial just for me! I have tried making bread four or five times before, and had failed every time. Now I know exactly why, and I can't wait to try again.
from Stephanie
Reply
malaysia baruOctober 06, 2009 5:24 pm
Dear Rhonda,
Is it possible to make bread with ZERO salt?
TQ.
Reply
FrannieOctober 20, 2009 3:06 am
Hi Rhonda,
Sara seemed to have the same issue I did but I didn't see your reply. I baked my bread at my oven's highest temp, 550 F (288 C) for the first 10 min and it's burned all over! Are US ovens different? What is the "high" temp you bake yours at for the first 10 min? I'm bummed it didn't work this time but I'll definitely try it again! thanks
Reply
BecOctober 27, 2009 9:34 am
Thank you so much for this. Your instructions are very easy to follow and comprehensive. My bread was delicious and my husband has asked me to make more, he likes it that much! Thanks again 🙂
Reply
AnonymousNovember 30, 2009 8:03 am
Thanks so much for this recipe with the pictures! Great to help me made bread. Thanks again! Margriet.
Reply
AnonymousDecember 24, 2009 5:03 pm
I have tried to make bread several times but mine never rises much. Where can I buy 100% stoneground flour. I have looked around but the ones I buy never seem to have enough gluten. I live in Sydney
John
Reply
Rhonda JeanDecember 25, 2009 4:16 am
John, you're probably not kneading as long as you should. Eight to ten minutes of vigorous kneading will give you a well risen loaf. The recipe here calls for gluten flour, if you're not kneading enough, the extra gluten in the flour will give you the rise. That's why I included it in this beginner's loaf – most beginners don't knead enough. Add the gluten and see if it makes a difference. You can usually buy it from the health food store or Woolworths.
Reply
AnonymousJanuary 12, 2010 3:06 pm
Hi Rhonda
Can this be kneaded with a good stand mixer? I'm sure doing it by hand is good for the soul and the bread – but with 3 small children I just don't see it happening for me!!
Reply
MeganJanuary 19, 2010 9:23 am
Hi Rhonda,
Thank you so much for this wonderful tutorial. I am another that has struggled for years to make a decent loaf of bread at home. And finally with your fantastic tutorial I have succeeded. I can't put into words the satisfaction that brought me.
I did have a quick question though. I've made bread many times now using your recipe. I had one loaf recently though that didn't rise as it should have.
On it's 2nd rise, instead of rising into a lovely 'dome' shape in the tin, is started oozing over the sides as soon as it came to the top of the tin. So consequently it was 'flat' on the top.
It's only happened the once though, but I would love to know where I went wrong. Too much water?
Best wishes and thanks again,
Megan
Reply
LeslieJanuary 24, 2010 1:34 am
Very Helpful! Thank you.
Uhmmm, don't use Boiling water for the yeast–it kills it, it won't activate no matter how much sugar you use! (experience is the Best teacher, sigh).
Reply
Green MamaFebruary 01, 2010 8:05 am
Hi Rhonda,
My Daughter and I are Gluten Intolerant so was wondering what sort of flour I could use to make bread? I dont want to buy a pre-mixed packet because I need to learn how to do this from scratch at some point (may as well be now!) as Gluten free Bread is really expensive and often not very nice! So making my own seems to be the best option :o) Any advice would be really appreciated.
Thank you
Reply
Term PaperMarch 01, 2010 4:06 pm
Hi, thanks for the tips. That was a great help to me…
Reply
Tree Huggin MommaOctober 08, 2010 6:21 am
OK so I have been trying to make bread for a while. My problem is that I make bread using 100% whole wheat flour (locally grown and milled). It remains to sticky to knead properly or its to dry, I can't seem to find a happy medium. Is it my whole wheat flour? I am going to try the tsp thing, because I add all the water to the yeast and honey to prove it, and then I add my flour slowly.
Reply
AnonymousFebruary 16, 2011 3:41 pm
Hi. I've tried and tried to make a decent loaf. It's always heavy and dense. from reading your tutorial it must be in the kneading. Also this is the first time that I've heard mention "gluten flour"
I'm living in the Philippines and suspect they have a different name for it….if they have it. does gluten flour go by any other names.
Thanks. I'll let you know about the next loaf. mstng03@gmail.com
John Lane Feb16,2011
Reply
IanFebruary 20, 2011 12:14 am
Hi Rhonda
I hop its not too late to get some further advice on this topic.
My bread making has developed a rather sad pattern of late. I follow you tutorial to the letter, but then when I put it in the oven to cook (say within the first 10 mins) it has a kind of mini flop. It drops about 2cm and goes from a lovely dome shaped top to flat with a slight sag in the middle. The bread is still ok to eat, but isn't as light and fluffy inside as other I had managed earlier.
I've tried longer and shorter kneading times, more and less salt and/or sugar, and I've tried letting it rise in the sun or in a slightly preheated oven.
I've seen mention of "over proofing" on some forums, but have tried any suggestions and they don't seam to be helping.
I was wondering, have you ever encountered anything like this? Do you have any suggestions?
Reply
rhonda jeanFebruary 20, 2011 3:38 am
Hi Ian. It sounds like you're being a bit rough with the dough – after it's risen the second time in the tin and while you're putting it in the oven. If you drop the tin hard on the bench or on the oven shelf at this point, it will deflate a bit. It's like punching the air out again. If it's not that, it might be your oven temperature – test it. It should be 220 – 200C.
Good luck.
Reply
elizabethMay 06, 2011 5:54 am
Awsome post! Awsome blog! I just chanced upon your blog and I am so happy I did! I have been wanting to try making my own bread but have been intimidated by the whole procees. Your blog has inspired me to go ahead and have a go at it. I will try baking some this weekend with one of my daughters to help with the kneading. I'm really glad I found you and your blog!! Thanks again!
Reply
IanJune 26, 2011 10:08 am
Hey Rhonda (again :P)
I was wondering if you could describe in any greater detail how you time putting your bread in the oven. My bread is coming out ok, but I'm after that illusive "oven-spring". Often I think I put mine in too late or early. I appreciate its hard to describe because temperatures vary and so on, but I'm hoping there are some little signs you look for, when the dough is telling you its time to go in the oven. Love your work as always 🙂 Cheers.
Reply
KristinJuly 27, 2011 5:53 am
Just made this! (I've made it before) It's my favorite!!
Thanks!
Kristin
Reply
LydiaAugust 25, 2011 12:44 pm
My loaves are baking as write this! I made one in a pan and one round freeform. They are covered in seame seeds, oats and soaked linseeds!
I have never made bread by myself before, only ever watched my mum when I was a kid but everything has worked so far! I'm just trusting my instincts 🙂
Thank you so much for this tutorial!
Reply
WallabygoldAugust 25, 2011 9:21 pm
Thanks so much for this step by step guide, I'm going to have to try this tomorrow.
Reply
WallabygoldAugust 27, 2011 3:28 am
Thanks again for the tutorial, I did make the bread and it turned out pretty good for my first attempt. Here is a link to my blog post I have mentioned this tutorial as well as your blog in general. http://www.mywallabygold.blogspot.com. I really enjoy reading your blog and you inspire me to live a simpler more rewarding life. Thanks Rhonda!
Reply
Villela'sNovember 02, 2011 3:30 am
Hi Rhonda,
I am new to your blog and was inspired to try your beginners bread recipe since I had never made bread before and I am trying to find a less expensive way to have bread at home. I was wondering, however, when I did the kneading process and got to about 8.5 minutes of kneading, the dough which had started to look very smooth, began to tear. Did I over mix/knead? I I have tried making bread before and they are always complete failures. I can never seem to get the dough smooth like yours looks in the picture for the first rise. I don't know why. Could you give me some possibilities? Thanks!
Reply
Jackie NjeriNovember 07, 2011 8:23 pm
I tried to make bread for the first time last weekend, lets just say, I threw it out immediately I got it out of the oven, it was terrible.
After reading your recipe I can see where I went wrong, and I will try it again your way.
Thanks for sharing.
Reply
HelenNovember 12, 2011 2:54 am
Hi Rhonda
I've just been working my way through your blog, and really like this easy introduction to bread making. Whenever I've made bread in the past it has always been heavy, so it looks like I didn't knead it enough. I live in Greece, and have no idea what Gluten flour might be called, however, so think I'll just have to do it the hard way with more kneading!
Reply
CynthiaDecember 12, 2011 11:11 pm
Can you please tell me if it is necessary to use the milk powder? Could I use something else instead? We can't drink milk in our home……
Thanks,Cynthia
Reply
rhonda jeanDecember 13, 2011 3:58 am
The milk powder is optional. It just adds flavour.
Reply
Schnarfle FarmsMarch 21, 2012 10:18 pm
Hi Rhonda.
Can you recommend a good breadmaker for a small family of one person and one cat? Doesn't need beep for add fruit, but pasta kneading would be kneato (hehe). Congratulations on your book success! Thankyou.
Reply
AnonymousMarch 22, 2012 12:10 pm
Hi Rhonda –
I just found your other recipe for making bread in the bread-maker…
I have never used my bread-maker before, someone gave it to me because they didn't use it and it came with no instructions. I did everything as you said, but I had a silly question…
Am I supposed to mix all the ingredients together in a bowl or something before putting them into the breadmaker, or do I just pop them all in and it will mix it for me?
It's still cooking and I've peeked through the little window but whats in there really doesn't look kneaded or anything like bread :s haha!
Any suggestions?
Reply
AnojMarch 29, 2012 6:19 am
Thanks for creating this blog Rhonda, it is very helpful for me and all the like minded people. I love bread and is gonna try this recipe very soon. Do you also make Ciabatta? If so, will you please share your recipe?
Reply
AnonymousMay 19, 2012 1:53 am
Hi there, just came across your site on bread making for beginners. Love the photos for the different stages.
I was wondering if you place some ice cubes to steam the oven during the bread baking as I've read that it's supposed to help with the bread raising…although I did not notice the bread raising any further in the oven when I did it.
My bread always turned out dense and not light and fluffy as I hoped for…I wonder if it's to do with my inexperienced kneading. Will it be ok to knead more than 10mins as long as I get the smooth elastic dough as shown in your photo?
It would be great if you could give me some pointers 🙂
Many thanks.
Reply
rhonda jeanMay 19, 2012 4:16 am
Anon, you should keep kneading for as long as you need to to get a smooth and springy dough. That is AT LEAST ten minutes.
Reply
l1fel0ngMay 19, 2012 2:02 pm
I've just tried to make bread from a River Cottage episode, and it has failed abysmally. Not enough water, not enough kneading. Not enough RISING. 🙁 So, having found your recipe, I'm going to have a go at doing it the Aussie way. 🙂
VERY MANY THANKS!!!
M.R., Pyrmont
Reply
RachelOctober 04, 2012 4:30 am
Hi
This is the second time i've used your method with fabulous results! Delicious bread from the wonderful easy to use step-by-step instructions. The pictures are brilliant and gave me confidence that i was correct every step of the way. Thanks Rhonda!
Rachel
Reply
DomDecember 14, 2012 11:38 pm
Hey thanks for this recipe. Made my first loaf ever this afternoon, I made a few mistakes and had to compensate a few times then decided to go for gold and put herbs in, resulted in a great herb loaf. Anyway, Kudos this is a great recipe
Reply
AnonymousJanuary 11, 2013 12:05 am
u are a wounderful woman with blessed hands.
THANK YOU
LERE
Reply
AnonymousMay 03, 2013 10:42 pm
Hi Thanks alot,i am going to try this for the first time,i hope it works am actually thinking of doing bread as a business here in Africa Uganda(Have you heard of that small country before,will let you know of the outcome.
Cheers
Reply
AnonymousJuly 18, 2013 1:29 pm
Hi,
Thanks for the guide and photos, they're great. I am still having some trouble though, I was hoping you could help.
I've tried this recipe twice and my dough just won't rise enough so I end up with quite a dense bread. I use 2 tsp of instant yeast because I can't get dried yeast, is this the problem? I've made sure the room temp is perfect AND have tried giving it more time. Every other step works out well. It's very disappointing 🙁
I have made traditional bread using water, flour, yeast and salt with success, so I don't understand what's wrong! hope you can help.
Reply
Replies
rhonda jeanJuly 29, 2013 9:06 am
I'm sorry, I've never used instant yeast so I can't advise you.
BAKING TUTORIALS
Get Listed
Get Listed, HI Desert Classifieds for Business & Community, Yucca Valley, 29 Palms, & Joshua Tree CA.
Google Adwords
6 Reasons Why You Should Be Using Google AdWords in 2017
Total Grid Failure … what will you do?